This was something my friend Kylee and I were chatting about. I been sending her photos of random stuff to see what she may like me to send for her birthday. It jsut so happened this one item she had and we ended up talking about. After hearing the horror story of the poor design flaws, I jokingly (sort of..heh.) wrote my 'letter'.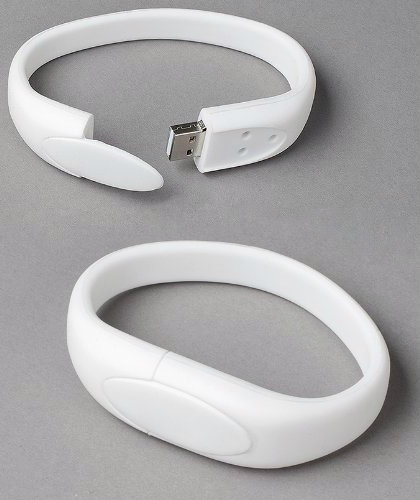 Dear (usb braclet people),
What. The. Fuck. I mean really, have you ever even WORN a fucking bracelet? I know the answer to that. Its no. No you have not. If you told me you had not once in your little life even seen a 'bracelet' I would believe you without hesitation. You are now the reason why I cry myself to sleep at night. Do not get me wrong though, you certainly were heading in the right direction, but lets just put that one design flaw aside and pick up on the next, shall we? Just what did you make this out of? I quote '...it is made of omg it collects dust better than a duster, having a cat doesn't help either it collects that too. LOL! yeah not so sure how long that clock would last. Awww no fair I miss WhatABurger...' Maybe I quoted too far, but you get my point Misère. Cat hair and dust collector. So now not ONLY have you never even SEEN a bracelet but now you have never been near ANY creature with fur and somehow defied the laws of nature and managed to escape dusts wrath. This leave me to two conclusions. One; you have not once left your home due to a fear of the outside world and because of a heightened sense of fear for 'germs' you are one of those over cleanly freaks like Mr. Monk, or of the like. Two; you legally are unstable in the mind and had only been contacted by an outside source from your little padded cell on a simple whim and they went with what you have said. Now you have two great ideas to go with here, you see, the only problem is together they make for the combination in history, like mayonnaise and chocolate ice cream. You are a sick son of a bitch but I am still willing to work with you on this. This 'material' that encases my usb, lets let it have its desires realized, lets create it into a new revolutionized duster! And lets go more wild and use ACTUAL bracelet materiel such as leather with those clippy buttons and such as the usb ports home instead of your modernized rubber feather duster. I would like a share of the proceeds for bringing this to your attention and will accept any amount above 20% of the profits. You are therefore welcome and best of luck partner, it was a pleasure.
Signed,
Hit